You simply can't go wrong with a beautiful, durable, and virtually-maintenance free PolyVinyl fence. Designed to last a lifetime, PolyVinyl fence systems are resistant to both water and fire, and they can easily be cleaned with a hose. This fencing is made of the same material as vinyl siding and vinyl windows, so you know that you can count on it to hold up over the years. It is not, however, created from the same material as PVC pipes (which lack PolyVinyl's weatherability and strength), so don't underestimate it! To learn more about these versatile vinyl fencing systems, please scroll down.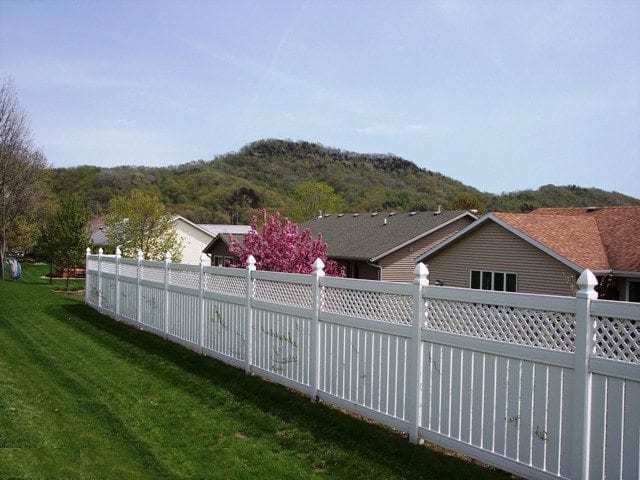 PolyVinyl Fence Systems
Need a standard fence to protect your yard from passersby and protect your dog from a busy road? You got it! Looking for a fence that will fully block your pool from your neighbors' prying eyes? Sure thing! Want a fence that provides complete privacy on the bottom-half but offers a decorative detail on the top? No problem! PolyVinyl fence systems can be purchased in standard, semi-privacy, and full privacy models, so we've got you covered.
Made in the U.S.A., all of the PolyVinyl fence systems are available in white and tan, and there are gates available to match every fence height. You'll find that 48″, 60″, and 72″ wide gates are standard, while 36″ and 42″ wide gates are special order. The section lengths are measured from the center of one post to the center of the next post.
MODELS
PolyVinyl fencing is available in a variety of beautiful models, including the following:
Colonial
Regal (simulates an aluminum fence)
Noble (simulates a staggered-spear aluminum fence)
Supreme
Sterling (mimics an old-fashioned wood picket fence)
Elite
Remington
Lattice (pickets are replaced by lattice between the mid- and top-rail)
Superior (the most popular privacy fence offered, available in concave and convex)
Majestic (privacy fence with lattice topper)
Kingston (upscale privacy fence with a picket between the mid- and top-rail)
Prestige (semi-privacy fence)
Princeton (semi-privacy fence that uses two types of verticals for the infill) 
Dynasty (semi-privacy fence with a lattice top)
Westwood (privacy fence with a wood-grain texture)
Finally, you can also purchase the PolyVinyl system in Post & Rail models, including 2-, 3-, and 4-rail systems as well as a cross buck style. Heavy-duty and lightweight residential versions of the Post & Rail models are also available.
GATE SYSTEMS
The accompanying gate systems provide everything you could want in a gate and more. The gate perimeters are fully reinforced, for example, with a corrosion-resistant aluminum channel, so the gate will stay square. There are heavy-duty aluminum gate post stiffeners to keep the posts rigid, and the adjustable hinge hardware allows for accurate alignment. Finally, the gate systems feature corrosion-resistant screws for long-term strength and beauty.
If you would like to learn more about our PolyVinyl fence systems, please watch the training video above or check out this helpful brochure. You will find specific information regarding the colors, measurements, and optional features, as well as pictures that can help you imagine what the fencing systems would look like in your own yard.
When you're ready to purchase your new fence, head to MMC Fencing & Railing. In our online store, you'll find a variety of PolyVinyl fence systems. To learn more, please give us a call at 1-866-931-5002 or click here to request a quote. We look forward to hearing from you!